COVID-19 Mental Health Support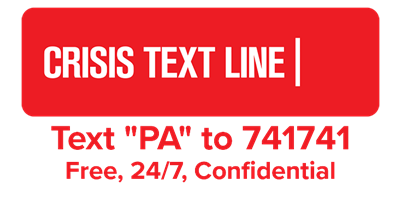 If you or someone you know is experiencing a mental health crisis, you can contact the 24/7 crisis hotline by texting :

"PA" to 741-741.

We can all help prevent suicide. The Lifeline provides 24/7, free and confidential support for people in distress, prevention and crisis resources for you or your loved ones, and best practices for professionals.

During this uncertain time, it is comforting to know that there is already a coordinated community resource available 24/7, 365 days a year to answer questions and direct individuals and families to appropriate solutions for their circumstances.

At 211 NE/ Help Line provides 24/7/365 information and referral to basic human needs and access to crisis services. PA 211 NE/Help Line has skilled case workers that are extensively trained in information and referral and meet all Pennsylvania requirements for telephone crisis management. Basic human needs, include but are not limited to, food, housing and utilities. Crisis services include drug and alcohol treatment and detox, mental health care and physical health care.

Resources of PA 211 NE/Help Line can also be accessed by texting 211 (898-211) and supplying a zip code or by using pa211ne.org.

Safe2Say Something is a youth violence prevention program run by the Pennsylvania Office of Attorney General. The program teaches youth and adults how to recognize warning signs and signals, especially within social media, from individuals who may be a threat to themselves or others and to "say something" BEFORE it is too late.

1-844-723-2729

https://www.safe2saypa.org/

ChildLine provides information, counseling, and referral services for families and children to ensure the safety and well-being of the children of Pennsylvania. The toll-free intake line,

1-800-932-0313, is available 24 hours/7 days a week to receive reports of suspected child abuse.

Reach Out PA - Your Mental Health Matters

Governor Wolf seeking input on the state of Mental Health in PA. You can click on the link below to provide feedback to what we are experiencing as a School Community with limited to No funding. Feel free to add in your comments that grants are not cutting it with the Mental Health crisis - PA needs to provide direct funding to schools and not only through grants - because many suburban school districts as us in WA; do not get selected because of not meeting the criteria as an inner-city or rural school district.

COVID 19 RESOURCE LIST FOR PARENTS AND PROFESSIONALS
Coping With Anxiety A List of Resources For Students and Parents