Wyoming Area Food Services Department
Melissa Collevechio, Cafeteria Supervisor
Email: mcollevechio@wyomingarea.org
There are 3 ways to make payments on your child's account:
1. Checks - made payable to Wyoming Area Cafeteria
(*Please be sure to write your child's name in the memo section of the check)
2. Payments online via PayPAMS
(See Information Below)
3. Cash .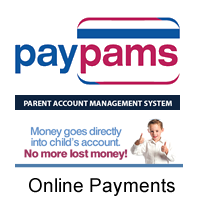 PayPAMS is a third party vendor making it possible for parents/guardians to make electronic payments for your student's cafeteria account. PayPAMS is a completely separate computerized system for use by WA's Food Services Department. This is a secure site.
---
Features of PayPAMS system are:
- Schedule e-mail notifications of account low-balance
- View your child's cafeteria PIN# account via the PayPAMS.com website
- Monitor your child's daily food purchases in the cafeteria
- Check the account balance in your child's account
- Make payments on-line using VISA, MasterCard, or Discover for a nominal fee of $1.95/transaction through PayPAMS
- Schedule automatic payments based on account balances
- Reduce the chance of lost money by making payments directly into your child's PIN# account for the cafeteria
For further information on PayPAMS click here.