Students in grades 7-12 will automatically have a student portal account created after registration in complete in CSIU. Login using your Student ID as the user name and the default password is warriors
Email your school counselor or techsupport@wyomingarea.org to have your CSIU password reset to the default.
---
GOOGLE ACCOUNT/CLASSROOM LOGIN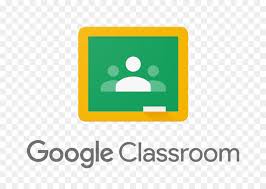 CLICK THE GOOGLE CLASSROOM ICON TO LOGIN
Students login using their as follows...
Ex. John Smith, 12th grade, graduation year 2021
Username: jsmith.2021@wyomingarea.org / Password: Use your current or default password
Please determine the graduation year of your student as follows...
12th - 2021, 11th - 2022, 10th - 2023, 9th - 2024, etc.
GOOGLE ACCOUNT / CLASSROOM LOGIN VIDEO TUTORIAL
Click the link above to watch a brief demonstration video on how to login to your Google / Google Classroom account.
PARENTS GUIDE TO GOOGLE CLASSROOM (YOUTUBE)
This video is a recent instructional guide for parents to navigate Google Classroom.
GOOGLE CLASSROOM TUTORIAL - PRINCIPAL PACCHIONI
Principal Pacchioni has prepared a brief tutorial using a Chromebook on an introduction to Google Classroom and how to accepts Classroom invitations, navigate around Classroom, along with Gmail.
---
---
WASD Board Policies for Technology Use (Board Docs)
WASD ACCEPTABLE USE POLICY 815
(This is the acceptable use policy for use of any district technology at WASD)
WASD ACCEPTABLE USER POLICY 815.1
(This is the acceptable use policy for use of the wireless guest network within WASD
---
STUDENT CAREER READINESS SKILLS
Students in grades 3-11 can login using their Google credentials as listed above.
PA Career Zone (PARENTS AND GENERAL USE)
---
MATH RESOURCES
K-3 math resource students/parents can login to using the following pattern of initials and their district issued student ID.
You must fill in your STATE, DISTRICT, and SCHOOL as follows...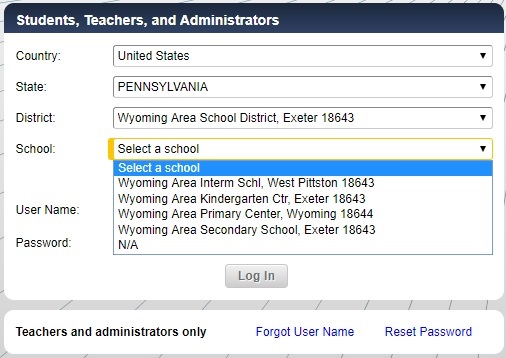 Ex. John Smith, ID=1234546
UserName: js123456 / Password: 123456
---
ST Math is used in grades 4-6 and students can login using their Student ID as the user name and password as follows...
Ex. John Smith, ID = 123456
Username: 123456 / Password: 123456 You will be prompted to Allow access to content on your web browser.
For tablet users, click the ST MATH TECHNICAL REQUIREMENTS link for information on minimum requirements along with download instructions for the ST Math apps on the Google Play and Apps Stores
---
LIBRARY STUDENT RESOURCES...
---
SCIENCE RESOURCES
Available to students in grade 6-8 and the login uses a combination of initials and Student ID as follows...
Ex. John Smith, ID = 123456
Username: js123456@wa / Password: StudentID
---
Learning Support District Resources
Scientific Learning On Demand Login (FastForWord)
Login information is provided to students as they are registered to this specific program.
---
INTERMEDIATE CENTER
---
SCHOLARSHIP INFORMATION WEBSITE
Visit the WASD Scholarship Information website under Guidance Department