Click to view District Calendar, Bus Schedule, Handbooks, etc.
Students in grades 7-12 will automatically have a student portal account created after registration in complete in CSIU. Login using your Student ID as the user name and the default password is warriors2022
Email your school counselor or techsupport@wyomingarea.org to have your CSIU password reset to the default.
---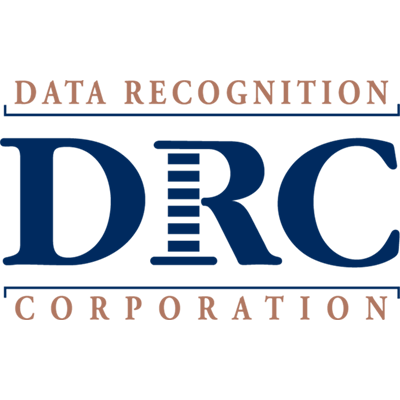 DRC/CDT TESTING INFORMATION
Students in grades 3-12 will be using the DRC Insight Testing application installed on all district issued Chromebooks. This application only works with the school district. For students that need to remote test CDTs at home, please click the following guide for instructions and the custom web link to access the assessments. Teachers will build the assessments and assign test tickets to students. Any questions, please email techsupport@wyomingarea.org or contact your instructor who assigned the CDT assessment.

CDT Remote Testing Guide for Parents
Students will access DRC's online test engine from the following public URL/link:
https://wbte.drcedirect.com/PA/#portal/pa/550189/exam/1?index=1&adminId=550189
The URL must be copied/pasted or entered exactly as it appears in a Google Chrome internet browser. The link will not work if it is bookmarked within the browser to use for continued testing of the CDTs.

---
Google/Chromebook Update
A device reset normally fixes these issues. After booting the Chromebook, press the REFRESH (arrow) and POWER button and the device will reset itself. After reboot, login and check your Google Classroom Meet links. If there are still issues, please report to techsupport@wyomingarea.org and provide your device name which is labeled on the underside of the Chromebook. We can lookup the device by inventory too. The IT Department can remotely reset these devices back to a full factory reset.

Chromebook Basic Instructional Guide
Chrome OS Update Tutorial Video
If you have any account issues or concerns, please email techsupport@wyomingarea.org. The IT Department is working daily with Registration and each building to ensure that all newly enrolled students have Google accounts created. Information on login pattern and Google Classroom tutorials are available on the STUDENTS link from the district website or direct as follows...
GOOGLE ACCOUNT/CLASSROOM LOGIN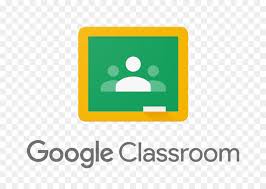 CLICK THE GOOGLE CLASSROOM ICON TO LOGIN
Students login using their as follows...
Ex. John Smith, 12th grade, graduation year 2022
Username: jsmith.2022@wyomingarea.org / Password: Use your current or default password
Please determine the graduation year of your student as follows...
12th - 2022, 11th - 2023, 10th - 2024, 9th - 2025, etc.
GOOGLE ACCOUNT / CLASSROOM LOGIN VIDEO TUTORIAL
Click the link above to watch a brief demonstration video on how to login to your Google / Google Classroom account.
PARENTS GUIDE TO GOOGLE CLASSROOM (YOUTUBE)
This video is a recent instructional guide for parents to navigate Google Classroom.
GOOGLE CLASSROOM TUTORIAL - PRINCIPAL PACCHIONI
Principal Pacchioni has prepared a brief tutorial using a Chromebook on an introduction to Google Classroom and how to accepts Classroom invitations, navigate around Classroom, along with Gmail.
---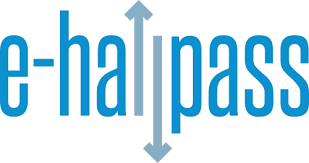 ---
---
WASD Board Policies for Technology Use (Board Docs)
WASD ACCEPTABLE USE POLICY 815
(This is the acceptable use policy for use of any district technology at WASD)
WASD ACCEPTABLE USER POLICY 815.1
(This is the acceptable use policy for use of the wireless guest network within WASD
---
STUDENT CAREER READINESS SKILLS
Students in grades 3-11 can login using their Google credentials as listed above.
PA Career Zone (PARENTS AND GENERAL USE)
---
MATH RESOURCES
K-3 math resource students/parents can login to using the following pattern of initials and their district issued student ID.
You must fill in your STATE, DISTRICT, and SCHOOL as follows...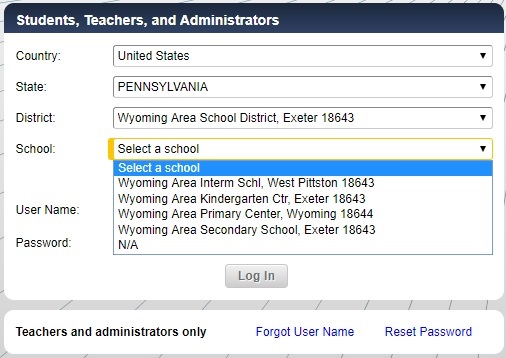 Ex. John Smith, ID=1234546
UserName: js123456 / Password: 123456
---
Use this Clever Portal link for iReady, ST Math, Rocket Math and other student resources. Students will use their Google credentials to login. Any students using Chromebooks will have the Clever portal link automatically start on login for Grades K-6.
---
LIBRARY STUDENT RESOURCES...
---
SCIENCE RESOURCES
Available to students in grade 6-8 and the login uses a combination of initials and Student ID as follows...
Ex. John Smith, ID = 123456
Username: js123456@wa / Password: StudentID
---
Learning Support District Resources
Scientific Learning On Demand Login (FastForWord)
Login information is provided to students as they are registered to this specific program.
---
INTERMEDIATE CENTER
---
SCHOLARSHIP INFORMATION WEBSITE
Visit the WASD Scholarship Information website under Guidance Department